Ten days in Buddhist concentration camp
Friday, April 17th, 2009 at 6:29 am
by Borg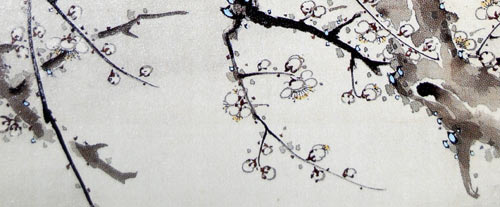 All around the year in various resorts around the world otherwise normal people gather to voluntarily put themselves under prison like conditions for at least ten days. You are not allowed to speak, consume any intoxicants, not have sex, in fact no physical contact at all, and you are not allowed any contact with the outside world. Every day the wake up gong rings at four, the last and only cooked meal for the day is at 11 am, and the lights are out for the night at 9.30 pm. Without exception everybody is asleep within minutes in a state of complete exhaustion and deep tranquility. What kind of sick minds would voluntarily put themselves in this situation? Is this a cult for guilt ridden self-castigators? Far from it. It is explicitly against any type of dogma and belief, and all about practical results. What then? Is it a drug clinic? A detox rehabilitation centre? Of sorts I would say, but not primarily for physical drugs, but from bad mental habits and the sensory pollution of modern life. For me it was a mental research lab and a training camp.
Described differently the Buddhist Vipassana resorts offer ten days of complete freedom from worldly responsibilities in locations of exquisite natural beauty. Volunteers cook and clean for you and all is completely free of charge. I cannot remember the last time I actually saw the moon in the morning, listened to dogs howling in the distance, really took in the dazzling splendor of hundreds of dew drops in the grass, followed how the yellow flowers in the meadow gradually opened to the sun. The entire arrangement exists for people to learn to meditate. From the time of waking up to the moment your head hits the pillow you are supposed to meditate for eleven hours, three out of which you are not allowed to move a single muscle.
When people hear the word meditation they sometimes think of relaxation therapy for people with nervous problems. Not quite the case with Vipassana. I have to admit that I too did not know what a disciplinary regime I was actually in for, and was surprised at how deeply exhausted I was the second and third day. It was a kind of exhaustion I had never felt from any physical or mental effort, and I felt it in a different part of my head. I took this to be a proof that I was indeed learning something new and using a different faculty I do not use that extensively in my ordinary life – controlled awareness. Gradually though I found that sitting still for an hour on bent knees was not as hard as it first appeared. And most interestingly I found that observing pain without reacting to it actually takes a lot of the sting out of it. The initial effort was required to break a lifetime of bodily and psychical habits, and towards the second half of the course the stillness of the body was just a lovely background canvas on which to observe how sensations, emotions, images and thoughts would arise…and again disappear. I would come out of the meditation perfectly cheerful and bursting with creative energy.
"

Vipassana means seeing things as they are, not like we would like them to be

"
Meditation can definitely bring about deep relaxation, but a better definition is actually "inner action" as opposed to reaction or habitual behaviour. I like to think of a human being as made up of three parts – body, mind and awareness/will. To keep the body fit you exercise. To develop the mind you go to school, you learn how to think and you socialise. To train awareness and will you meditate. There are many meditation techniques. Vipassana meditation is supposed to be the one taught by Gautama Buddha some 2,500 years ago. Vipassana means to perceive things correctly, i.e. to see them as they are, not like we want them to be. The technique consists in developing awareness of your natural breathing and with a sharp attentive mind notice every sensation in every little part of your body. The moment you notice you are lost in thoughts you again bring your attention back to sweep through your body in whatever order you have previously decided. You are not suppose to do anything but observe and accept anything that happens exactly as it is. You don't use any mantra, no visualisation, no particular bodily posture.
What happens?
Everyone has a different experience no doubt, but let me describe mine with a metaphor. The Bernina cafe on Gran Via where I am writing this is full of people. There is a woman smoking in the sofa by the window, there is a grumpy little girl kicking her chair at the next table, people walk in and out to buy the lovely pastries. The whole atmosphere is saturated with impressions and my mind filters out most of them. My nostrils are irritated by the smoke but there is no way I could dsitinguish between different types of pastry smells, and any subtle sounds are drowned in the buzz. The cafe is my normal mind. The meditative mind is the cafe when it is empty and dead quiet. I can now hear the humming of the fridge and notice subtle smells hidden behind the smog of smoke and bakery. The sensations I am normally not aware of I can now perceive with clarity. If I were to let one person come in I could notice how my body reacted with attraction, neutrality or aversion to that source of stimuli. It is like establishing a controlled environment for psychological experiments and scientifically observe the reactions.
It was not the first time I had done body awareness exercises or tried to observe myself, but the special setup made the experience much more intense then anything before. You get used to the practice and loose the initial sense of weirdness from staring at what appears to be nothing. It is not nothing, and it is not boring. I found that bodily sensations were a lot more interesting than I had ever thought. I had never noticed how many types of sensations I had in my thighs for instance, and how they change. Blind spots gradually started to give off sensations too. Admittedly the best moment for me was the taste of the delicious breakfast. The yogurt exploded in my mouth and I could feel and distinguish flavours in ways I have not before.
What does will power have to do with awareness? Well when you decide to concentrate on one inch of your thigh and sit still you really realize for yourself how little influence you have over your own body-mind. After a few seconds you are thinking about something that you have to do in the future or something that happened in the past, and in a moment your body suddenly decided to stretch your legs so as to avoid the discomfort. In this moment you realize how little freedom (and responsibility) you really have. Your body is reacting to pain and pleasure, but in developing mindfulness you can learn to remain equanimous and just observe how the impulses arise and gradually disappear. From that position of not reacting mechanically I can actually start making choices. Whenever I do what I want and not what just happens automatically in me I develop my will. In order to have will I must be aware of myself. Wham, bam, bom – they go together.
Results, results, results
What are the benefits of meditation? Many things, and they depend on what type you are practicing and what you want to get out of it. An obvious thing is the elimination of rubbish time gaps in your life. You will never wait for the bus again. You just meditate, it arrives, you get on and continue.
Just like physical exercise gives bodily strength and gives energy and cheerfulness, meditation does sharpen the mind, makes it easier to concentrate and make decisions. When I have meditated I can work more efficiently, and also hopefully get better at noticing when I am too tired to continue and instead leave work and do something else.
As anyone can tell I am a very cerebral person, and I wanted to explore more non-verbal right brain processes, drawing, dreaming, visualisation etc. Boy did I have vivid and surreal dreams. For instance there was this guy living in a room where all the furnitures were suspended on washing lines in the air, and the door was in the roof. There was also this woman with gigantic…on second thought I better not. 😉
Buddhism traditionally focuses on learning to deal with suffering, but I got to admit, I'm not experiencing anything that would qualify as suffering at the moment. I'm healthy and happy, but I'm sure it can't hurt to get a bit happier right? Suffering is in store for everyone sooner or later no doubt. A lot of people also use meditation to overcome anger issues and addictions. Many find increased awareness stops cravings without even having to try. By simply observing respiration and the sensations that would normally cause the anger instead of focusing on the object of aversion/craving, the process changes by itself. 
A handful of mumbo-jumbo
Would I recommend Vipassana meditation? Each to their own, but the fact that people come back year after year is one proof that there is something to it. The ex-Beatles reunited only last week to try to raise money to make meditation part of the school curriculum, and in a way it seems a no brainer that instead of trying to get rid of old habits learn early how not to accumulate them. There are many techniques and Beatles famously were into TM. What particularly attracted me with Vipassana was the official absence of dogmas and mantras, and the emphasis on personal experience. I have elsewhere defined that I distinguish between the religious and the realist attitude to the world as seeing what you want to see vs. seeing what is. In this respect Buddhism officially is not at all a religion but a life philosophy with a system of ethics and a psychological practice to learn to adhere to that ethics. Buddha could be seen as the world's first psychotherapist. Instead of the Church like way of tying up people's minds into extreme tight knots of guilt, suspended between condemnation and forgiveness, and maintaining people in a state of eternal adolescence, Buddhism is trying to help people undo the knots, become aware of how negative habits of the mind creates suffering here and now. It is trying to help people become adults and accept things as they are without a need to lie to themselves.
This is the official stance. Unofficially this Vipassana practice is saturated with Indian traditions and beliefs. While the initial claim is only believe what you experience yourself I found many cracks in the teaching. Obvious ones were:
If dhamma is the universal law of nature how come we can break it? We already live according to universal laws, do what we may. Human laws can be broken yes, but then you might end up in jail. There is a confusion between laws of nature, and laws of human conventions, that makes it possible to perform a philosophical back flip with a twist and connect human moral actions with some kind of universal karmic law. The whole belief that good intentions is the only thing that matters to top up your karmic account is a bag of boloney. But hey, as long as it helps people to strive to better themselves I love boloney. Vive boloney!
It is said that the enlightened Buddha can remember previous lives. Like Christianity Buddhism aims at escaping the suffering of our world and in their version it means to end the cycle of eternal rebirth. I find all aspirations of escapism deeply disturbing. And when people start to talk in terms of such metaphysical beliefs under the banner of personal experience I think they have bottomed out.
The Vipassana organisation is set up by a converted businessman called Goenka. Lovely, rational and pragmatic as the man is, if he really wanted it to be scientific he should cut out the dependency on Gautama Buddha and instead try to make empirical research into the technique the authority. You can not attack cults of personality with one hand, and then cling to one with the other.
While mantras and visualisation techniques are discouraged there is still some kind of guttural chanting going on in the meditation hall. I felt that was Goenka's personal mantra and found it very contradictory to the teaching and could have done without that.
The way they keep your mind frustrated without any intellectual stimuli only to receive the evening lecture that explains the practice with some theories, example and ample stories is questionable – even if the hilarious  stories crack you up. An optional hour of open discussion instead of a 5 min one to one Q and A would not have hurt.
"

Is there any worthwhile life philosophy without a trace of mumbo jumbo?

"
As I had decided to finish the ten days I had made a temporary pact with my critical mind to stay in its room. I realized that I would not get much meditation done if I were to let all my objections have free rein, and quite possibly would have added a number of emotional obstacles to the already tight disciplinary scheme I had to deal with. There were definitely moments when my intellect was trying to kick out the door, but if I had not found that Goenka came from a place of genuine good intention, open-mindedness and great sense of humour I would probably not given it more than a few days. I also tried to reason with myself and thought: "Have I ever come across a life philosophy worth its name without at least a handful of mumbo jumbo thrown in for good measure? No. Still have I not found my life being enriched from temporarily letting something new in and trying it out. Yes. Alas, shut up and listen for a second, then throw out the crap you don't like. The worst you end up with is a lively sensitive mind and more will power, how bad can it get?"
Having left the concentration camp a few days ago I have now started to come to terms with the experience, and I am left with a sense that the beauty of Buddhism is its pragmatism. You can be a Christian Buddhist, or an atheist Buddhist, or a communist Buddhist. It really doesn't care much for your beliefs. It wants you to learn how to be happy and not hurt anybody. Period.
Personally I like to be an I-think-for-myself-ist. But Big up to Buddha!
More info on Vipassana centres here.
Tags: Buddhism, meditation, Vipassana