This post is about censorship, how it can be understood, if it can be legitimate and how it influences our chances of dealing with unprecedented changes in our world.
Censorship is about concealment. Etymologically the Roman censor was the judge supervising public morals, thus the judge of what to hide and what to tell. Often in order to conceal something it is not enough to simply remain silent about it, but requires to actively cover up and fabricate myths. Therefore, the problem of the legitimacy of censorship is the same as the legitimacy of lying.
Censorship is about transparency and privacy. In today´s world the individual is completely transparent to the state and the corporations, whereas corporations and states enjoy their privacy. All our communication, transactions and movements are recorded, whereas we know little about those that have access to this information. This requires an unrealistic degree of trust in the goodness of our leaders.
Reasons to Hide
There are different motives for concealing, some are honourable and some are less so. Parent may try to shield their children from painful experiences in the hope that they will grow up with less scars that way, thinking that later on in life they have developed the skills necessary to deal with them. Friends may  avoid relaying nasty things people may say about you out of loving care. We all go through phases where we are not strong enough to deal with certain issues. But more often than not people hide things from you not in your best interest but in their own. Advertising, political propaganda and religious indoctrination are often not enacted in the best interest of the subject (the concealé), but to serve the interests of those promoting it (the concealer). Therefore I  would like to distinguish between two different types of concealments:
a) self-serving censorship: concealment serving the interests of the concealer
b) benevolent censorship: concealment serving the interests of the concealé.
These are not mutually exclusive, but on the contrary often complement each other. Many marriages are saved that way.
Moreover, it is not necessarily the case that the concealer and the concealé are different people. It may seem illogical but people do lie to themselves rather convincingly and with such skill and enthusiasm that their myth becomes their reality. (After all, a concealer is a type of make up to hide a person´s true face.) But when people talk about censorship they normally refer to the less abstruse control of information of one group of people over another.
Active concealment, as opposed to passively leaving bits out, is a case of actively fabricating disinformation. Distinguishing between self-serving and benevolent fabrication I think is important for any debate on censorship as it helps avoiding putting bedtime stories and war time propaganda in the same box.
Personal Transparency & State Privacy
I think there are some common mistakes worth avoiding when discussing censorship. The first is a failure to recognize that there is such a thing as benevolent censorship, and therefore genuine arguments for censorship and active fabrication in general. The second is a flawed attempt to draw analogies between the individual or family and the state leading to paternalism what can be called the personalised state fallacy.
There is an old humanist and scientistic dogma that truth is always good. It is so generally accepted that to talk about truth and freedom in the same sentence is common rhetoric for any leader. Here for example, in the words of a radical truth and transparency activist:
"He defended the right of people to freely access information, and said that the more freely information flows, the stronger societies become. He spoke about how access to information helps citizens to hold their governments accountable, generates new ideas, and encourages creativity. The United States' belief in that truth is what brings me here today.

And technologies with the potential to open up access to government and promote transparency can also be hijacked by governments to crush dissent and deny human rights.

As I speak to you today, government censors somewhere are working furiously to erase my words from the records of history.  But history itself has already condemned these tactics.

Both the American people and nations that censor the internet should understand that our government is committed to helping promote internet freedom.

And censorship should not be in any way accepted by any company from anywhere.  And in America, American companies need to make a principled stand.  This needs to be part of our national brand. "
Ignoring for a second that this is utter self-serving fabrication and Mrs. Clinton turned out to really hate transparency and fully endorse not only censorship but state sanctioned use of violence to enforce it, I still want to make the case that there is a right place for censorship. That place however is in our personal lives, not as a matter of state policy or corporate strategy. Parents have the right to protect their children of violent or pornographic media or corporate and religious indoctrination. People have the right to keep secrets, that is one benefit of having thoughts inside the head instead of outside it. Individuals have the right not to share private information to corporations and governments. These are prime examples of justified censorship. Recognising that some concealment and manipulation can be in the concealés best interests does not mean accepting that all or even most concealment is good but it depends on who does it. I personally find the fact that commercial self-serving fabrications by corporations have become a fixed feature of modern life  utterly insane. Fortunately it is easier than people think to live an ad-free life. (Block all advertising online, use new privacy features in modern browsers and never watch scheduled broadcast TV.)
On the other hand, people that fully recognise the role of concealment and diplomacy in their personal lives can be tempted by what I would call the personalised state fallacy, namely to think about the state as an individual or a family organisation with similar rights and needs as the citizens. This line of thinking goes something like this. I think privacy is my right and I need it to conduct my life skilfully. Politicians and diplomats are people like me and they need the same privilege to be able to run this country properly. Further, as the stakes are higher when it comes to national security, they should have even more rights to keep secrets than ordinary citizens. People do not need to know everything. The mistake here is to believe there is a valid analogy between individuals and the state.
"

A state is not a person. It has no rights in relation to its citizens, only obligations.

"
A state is not a person, no more than a country or god is. It has no rights in relation to its democratic citizens, only obligations to protect the rights of individuals and groups. The crucial advancement in human history was when citizens could begin to hold their democratically elected leaders accountable. When propaganda, advertising, censorship is protecting leaders, elevating them above the law there is nothing left of democracy.  A government is employed by the people and should serve its interests as the people are paying the politicians salaries. However a government, as it turns out, is not a group of submissive employees, even less a collection of altruistic saints but rather an exclusive club of concentrated power evolved to carefully maintain its own position. Leaders are humans and history has shown humans cannot handle absolute power. Thus, in as much as Clinton turned out to be a hypocrite the argument against state privacy is found in her own speech and people would do well in holding her to it.
Paternalism
"

What is wrong with paternalism is how it plays out in reality.

"
There are other arguments in favour or state censorship that are not based on any fallacy of misguided analogies. I have written about Plato, Luther, De Maistre, Machiavelli, Bernays, Lippmann, Strauss and so on and they all have clear reasons why the government should have the right to lie, and essentially it is because they know best. The leaders, coming from the best schools and families, are the most intelligent and therefore suitable to run a country. Ordinary people are irrational and stupid and should not be involved in the decision making process. They need to be guided and their opinions influenced. If the plebs were involved in running society they would unleash their animalistic aggressions and chaos and disorder would rein. People need to be kept docile and distracted by providing consumer goods and sports events and the like. This elitist line of thinking may sounds abhorrent, but that is probably mostly because it is not so often formulated in public any longer. Society however is still run largely along those lines. But whatever one might feel against such arguments they may still be right. Perhaps the common man is irrational and needs strong imposed order not to break down the fabric of civil society. Maybe only a few have got the clarity of mind to see the way forward. At the very least one could argue these are all real possibilities, empirical questions even, that need to be investigated. However, it turns out only a pinch of empiricism and a modicum of reason suffices to realize the Utopian elitist model is not the way forward, as it rest on these two flawed assumptions:
a) there is one optimum model, one best way to organise society
b) the leaders are benevolently serving the best interests of the public
Lets explore it. For elitism/paternalism to work there must be some higher truth the leaders can see that ordinary people cannot. There must be a best answer to political questions. Political parties centre themselves around a political philosophy that promotes, what they believe, is the best way to organize society. But even the assumption that there is an optimum model is highly controversial. For whom is it best? Who does it serve? No model is perfect for everybody, but even if a specific group of people – maybe the sons of Abraham? – were selected there is not even any guarantee a specific model would benefit them. How does anyone know the dynamic consequences of the model? How do you test it? What factors could be assumed constant? Entertaining the assumption that historically society was more predictable it may not be absurd to assume there was at times one optimum model benefiting special groups, but today the world is different from how it ever was. 50 years ago there were 2.5 billion people, now we are at near 7bn and predictions for the next century go up to 14bn. Population is only ONE factor that has changed in unprecedented ways with unpredictable consequences. Any model that pretends to offer solutions to political problems must be as dynamic and flexible as the emerging problems it claims it would solve, but since the problems will be different so must the model. If your only tool is a hammer all problems become nails.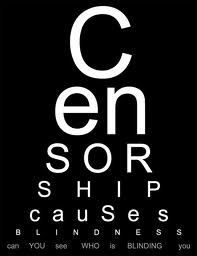 Openness, flexibility, research, crowd sourcing, critical oppositions, free scrutinizing media, evidence based decision making, transparency and so on can all be said to be part of an ideal model, but it would rather be a case of people reorganizing themselves and the way they live around emerging challenges, rather than dogmatic conservative elites hammering away. Even with the best motives in the world, there is not one perfect solution. The only way to be prepared for the future is to have many people educated enough to respond intelligently to new situations.
To the second assumption. In the context of censorship as active fabrication is it possible to think about an ideal society as one where the leaders are our loving parents protecting our delicate sensibilities by conjuring up cushy myths so as to keep painful facts concealed? Maybe some people feel it would be ideal if we could be children playing games all our lives and a few caring wise men would run the whole society in the best possible way. Essentially this is what has happened historically, whether you consider it ideal or not. The beliefs of people have been decided by a leading few. Going back to the Council of Nicaea (325 AD) the leaders decided that people should believe that Jesus was God. Around 610 AD the prophet Muhammad got his revelations from above and began the Muslim movement to unify people into one belief. A similar story is unfolding in Korea but without the credibility lent to it by centuries of reiteration. Rev. Sun Myung Moon of the Unificationist Church claims direct access to the divine and hopes to unite all Abrahamic beliefs (Judeo-Christian-Muslim) so that all believers can get to heaven. His logic goes: 1. Only true believers of the truth get to heaven. 2. Not all Abrahamic beliefs are the same. Ergo, 3. We need to make them the same so all people can stand a chance to get into heaven.
"Thus, no matter in what manner Christ is to return, he cannot satisfy the wide range of doctrinal expectations that presently exist. It would mean that only the smallest number of those with the "correct" view could have any hope to successfully recognize and participate in the event of the Second Coming of Christ. In that "God so loves the world," and in view of Jesus' own prayer for the ideal that ALL believers be one "as God and Christ are one," this circumstance is not acceptable. Therefore, it is incumbent upon Christian leaders to address this circumstance in preparation for Christ's return."

Rev. Sun Myung Moon, Unification Church

I grant the possibility that religious myths can have a healthy effect on a society and that creating coherence and group identity is valuable, but it is very dangerous to leave the myth making power in the hands of the elite because they are not as smart as they think. Nor are they as benevolent as they'd like you to think.
"

To leave the myth making power in the hands of the elite is very dangerous because they are not as smart as they think.

"
What  reason would you have to care for the future of this planet if you are preparing for the second coming of Christ?! The spoilt and anthropocentric core of the Abrahamic fairy tales have played a pivotal role in our consumerist life style, and they are devastating for out chances of achieving a sustainable way of life. If you want healthy myths go for pantheism where people believed in forest spirits and energies – think the the Na'vi people in Avatar – they would never harm the planet. Or for those with more intellectually refined tastes Ken Wilber´s Integral Theory or the Spiral Dynamics (The Theory that Explains Everything). At least those rationalised spiritual frameworks consider plurality of beliefs as something highly desirable and understandable.
Preachers, priests, charlatans and saints will always be around, and folk beliefs will keep on popping up like mushrooms. But the myth making must be a grass root process not left in the hands of the self-serving elites. What is wrong with paternalism is how it plays out in reality. Religious wars are not started by peasants and farmers but by leaders and profiteers. Religious propaganda gets hijacked by political and commercial interests. When something like WikiLeaks happens the machinery jolts. In the WikiLeaks affair it has become blatantly clear whose interests are threatened by transparency and how politicians and corporations are colluding to maintain status quo. There is immense amounts of corruption and injustice, ignorance and short-sighted stupidity going round in the world. People with power want to maintain that power. The Enlightenment was all about debasing old types of authorities, whether traditional, religious, aristocratic or capitalist, and replacing them with evidence, facts and reason. Organisations like WikiLeaks, OpenDemocracy, the Open Society Institute, Index on Censorship are all digital continuations of that process. You cannot trust leaders with the power to decide over what is real and what is not as they would never lend that power to you.